Please enter banners and links.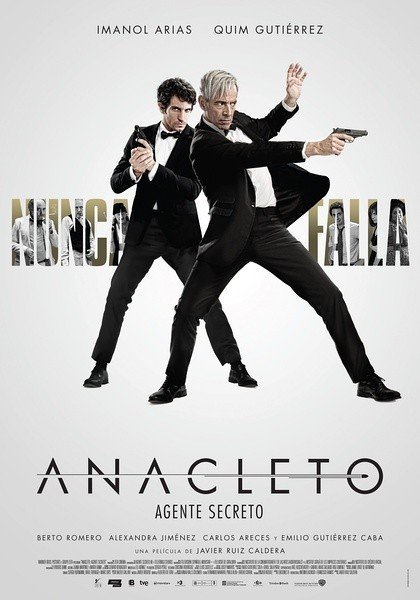 ◎譯  名 阿納克萊托:秘密特工
◎片  名 Anacleto: Agente secreto/Spy Time
◎年  代 2015
◎國  家 西班牙
◎類  別 動作
◎語  言 西班牙語
◎字  幕 英文
◎IMDb評分 6.2/10 from 907 users
◎IMDB鏈接 http://www.imdb.com/title/tt3510480/
◎文件格式 x264 + DTS
◎視頻尺寸 1280×536
◎文件大小 1CD 4.36 GiB
◎片  長 1h 33mn
◎導  演 哈維爾·魯茲·卡爾德拉 Javier Ruiz Caldera
◎主  演 奎姆·古鐵雷茲 Quim Gutiérrez
      蘿西·德·帕爾馬 Rossy de Palma
      卡洛斯·阿雷塞斯 Carlos Areces
      亞力姍德拉·吉蒙內茲 Alexandra Jiménez
      伊馬諾爾·阿里亞斯 Imanol Arias
      安德烈·布納福內特 Andreu Buenafuente
      José Corbacho
      Emilio Gutiérrez Caba
      貝爾托·羅梅羅 Berto Romero
      Jose Mellinas
◎簡  介
  Adolfo, a thirty something security guard, is going through a bad patch. Not only his lifetime girlfriend has just to finished with him to be a guy with no ambition but, moreover, he becomes the target of a series of thugs led by Vázquez, a dangerous criminal who has just escaped from jail. Also he discovers that his father has a double identity. He is not a farmer engaged in the production of cold meat – as Adolfo has believed all his life, but Anacleto, a secret agent who is a bit down and the man who locked Vázquez up in jail thirty years ago. Adolfo will have to leave his comfort zone and work with his father, the person that Adolfo get on worse with in the world to survive the revenge of Vazquez and while, between shootouts and chases, trying to get his girlfriend back.
Please enter banners and links.